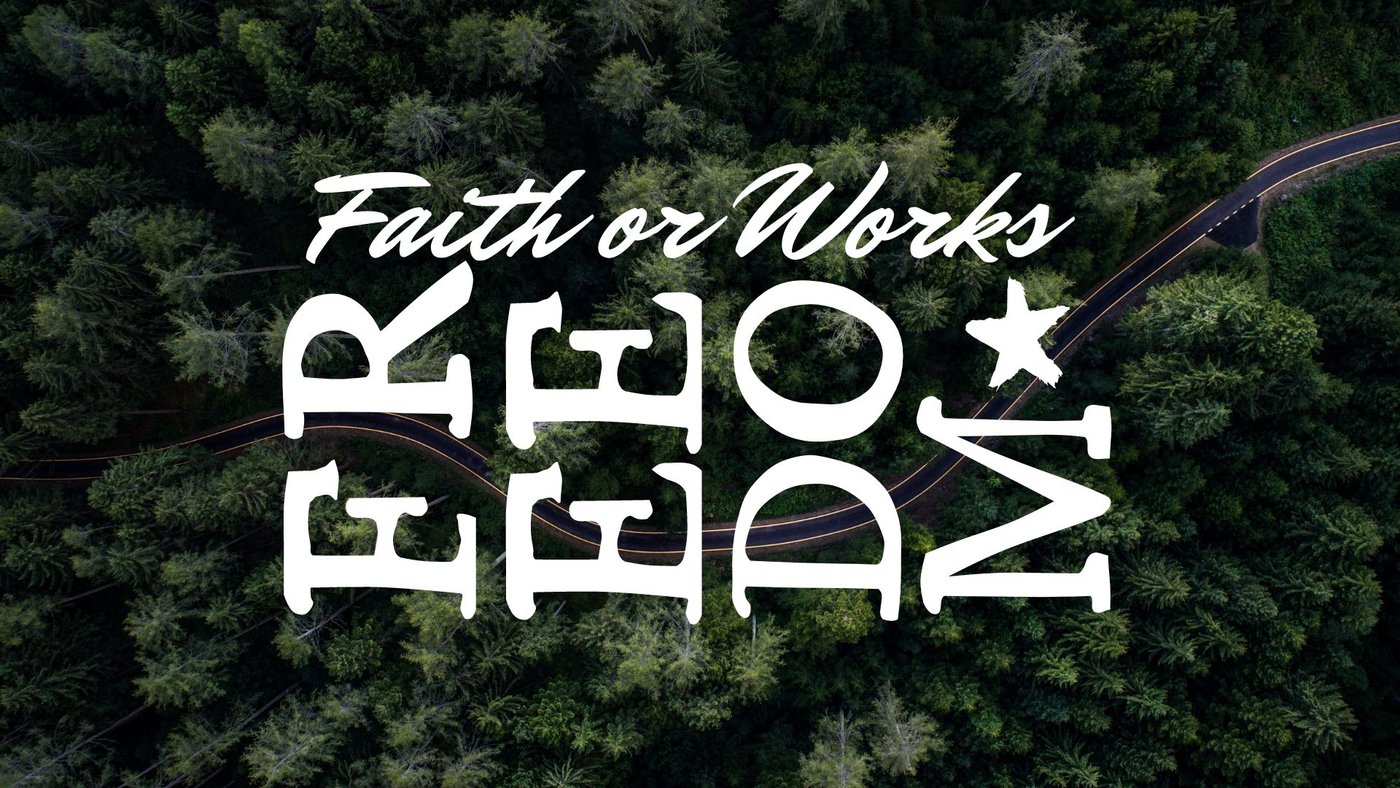 FREEDOM: Faith or Works
September 19, 2021
1. _________________________________________, ______________________________
Galatians 3:1-6
1 You foolish Galatians! Who has bewitched you? Before your very eyes Jesus Christ was clearly portrayed as crucified. 2 I would like to learn just one thing from you: Did you receive the Spirit by observing the law, or by believing what you heard? 3 Are you so foolish? After beginning with the Spirit, are you now trying to attain your goal by human effort? 4 Have you suffered so much for nothing - if it really was for nothing? 5 Does God give you his Spirit and work miracles among you because you observe the law, or because you believe what you heard? 6 Consider Abraham: "He believed God, and it was credited to him as righteousness."
Mark 11:22-24
22 "Have faith in God," Jesus answered. 23 "I tell you the truth, if anyone says to this mountain, 'Go, throw yourself into the sea,' and does not doubt in his heart but believes that what he says will happen, it will be done for him. 24 Therefore I tell you, whatever you ask for in prayer, believe that you have received it, and it will be yours.
James 1:6-8
6 But when he asks, he must believe and not doubt, because he who doubts is like a wave of the sea, blown and tossed by the wind. 7 That man should not think he will receive anything from the Lord; 8 he is a double-minded man, unstable in all he does.
2. All Are ___________________________________________________________________
Galatians 3:7-9
7 Understand, then, that those who believe are children of Abraham. 8 The Scripture foresaw that God would justify the Gentiles by faith, and announced the gospel in advance to Abraham: "All nations will be blessed through you." 9 So those who have faith are blessed along with Abraham, the man of faith.
Genesis 12:1-3
1 The LORD had said to Abram, "Leave your country, your people and your father's household and go to the land I will show you. 2 "I will make you into a great nation and I will bless you; I will make your name great, and you will be a blessing. 3 I will bless those who bless you, and whoever curses you I will curse; and all peoples on earth will be blessed through you."
3. __________________________________________ Is _____________________________
Galatians 3:10-12
10 All who rely on observing the law are under a curse, for it is written: "Cursed is everyone who does not continue to do everything written in the Book of the Law." 11 Clearly no one is justified before God by the law, because, "The righteous will live by faith." 12 The law is not based on faith; on the contrary, "The man who does these things will live by them."
Galatians 3:10TPT
10 But if you rely on works of keeping the law for salvation, you live under the law's curse. For it is clearly written:
"Utterly cursed is everyone who fails to practice every detail and requirement that is written in this law!"
Ephesians 2:8-9
8 For it is by grace you have been saved, through faith - and this not from yourselves, it is the gift of God - 9 not by works, so that no one can boast.
Romans 5:17
17 For if, by the trespass of the one man, death reigned through that one man, how much more will those who receive God's abundant provision of grace and of the gift of righteousness reign in life through the one man, Jesus Christ.
4. __________________________________ Us ______________________________________
Galatians 3:13-14
13 Christ redeemed us from the curse of the law by becoming a curse for us, for it is written: "Cursed is everyone who is hung on a tree." 14 He redeemed us in order that the blessing given to Abraham might come to the Gentiles through Christ Jesus, so that by faith we might receive the promise of the Spirit.