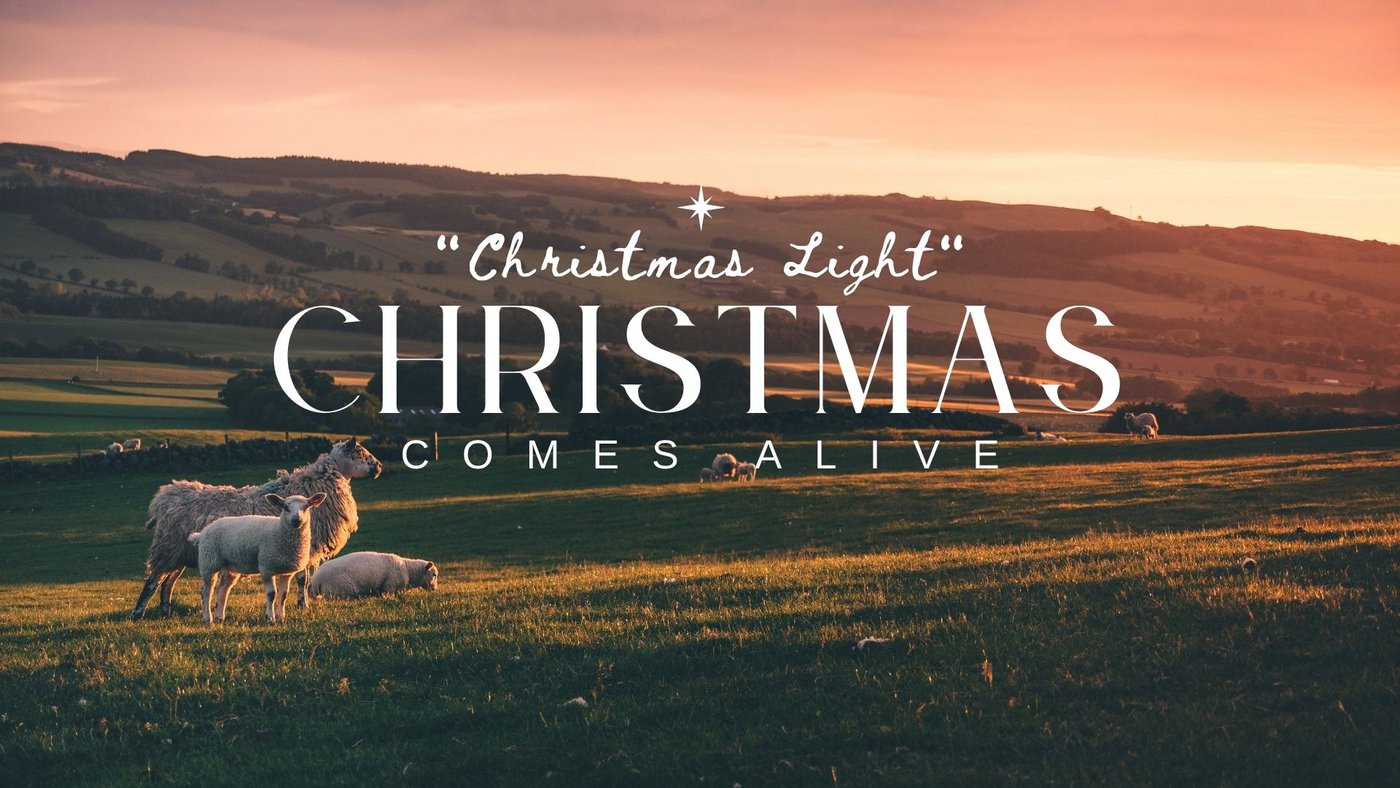 Christmas Comes Alive: Christmas Light
December 5, 2021
1. _______________________________ Christmas _____________________________
Isaiah 9:2
2 The people walking in darkness have seen a great light; on those living in the land of the shadow of death a light has dawned.
1 John 1:5-6
5 This is the message we have heard from him and declare to you: God is light; in him there is no darkness at all. 6 If we claim to have fellowship with him yet walk in the darkness, we lie and do not live by the truth.
1 John 1:7
7 But if we walk in the light, as he is in the light, we have fellowship with one another, and the blood of Jesus, his Son, purifies us from all sin.
2. _____________________________ Christmas ________________________________
Isaiah 9:3
3 You have enlarged the nation and increased their joy; they rejoice before you as people rejoice at the harvest, as men rejoice when dividing the plunder.
Isaiah 8:19-22
19 When men tell you to consult mediums and spiritists, who whisper and mutter, should not a people inquire of their God? Why consult the dead on behalf of the living? 20 To the law and to the testimony! If they do not speak according to this word, they have no light of dawn. 21 Distressed and hungry, they will roam through the land; when they are famished, they will become enraged and, looking upward, will curse their king and their God. 22 Then they will look toward the earth and see only distress and darkness and fearful gloom, and they will be thrust into utter darkness.
3. ____________________________________________________________ Christmas
Isaiah 9:6-7
6 For to us a child is born, to us a son is given, and the government will be on his shoulders. And he will be called Wonderful Counselor, Mighty God, Everlasting Father, Prince of Peace. 7 Of the increase of his government and peace there will be no end. He will reign on David's throne and over his kingdom, establishing and upholding it with justice and righteousness from that time on and forever. The zeal of the LORD Almighty will accomplish this.
Psalm 1:1 (NKJV)
1 Blessed is the man Who walks not in the counsel of the ungodly, Nor stands in the path of sinners, Nor sits in the seat of the scornful;
Ephesians 3:20
20 Now to him who is able to do immeasurably more than all we ask or imagine, according to his power that is at work within us,
Psalm 147:5
5 Great is our Lord and mighty in power; his understanding has no limit.
John 14:9
9 Jesus answered: "Don't you know me, Philip, even after I have been among you such a long time? Anyone who has seen me has seen the Father. How can you say, 'Show us the Father'?
John 14:27
27 Peace I leave with you; my peace I give you. I do not give to you as the world gives. Do not let your hearts be troubled and do not be afraid.
Genesis 49:10
10 The scepter will not depart from Judah, nor the ruler's staff from between his feet, until he comes to whom it belongs and the obedience of the nations is his.
Revelation 5:5
5 Then one of the elders said to me, "Do not weep! See, the Lion of the tribe of Judah, the Root of David, has triumphed. He is able to open the scroll and its seven seals."
Luke 1:46-55
46 And Mary said: "My soul glorifies the Lord 47 and my spirit rejoices in God my Savior, 48 for he has been mindful of the humble state of his servant. From now on all generations will call me blessed, 49 for the Mighty One has done great things for me - holy is his name. 50 His mercy extends to those who fear him, from generation to generation. 51 He has performed mighty deeds with his arm; he has scattered those who are proud in their inmost thoughts. 52 He has brought down rulers from their thrones but has lifted up the humble. 53 He has filled the hungry with good things but has sent the rich away empty. 54 He has helped his servant Israel, remembering to be merciful 55 to Abraham and his descendants forever, even as he said to our fathers."
Isaiah 59:14-17
14 So justice is driven back, and righteousness stands at a distance; truth has stumbled in the streets, honesty cannot enter. 15 Truth is nowhere to be found, and whoever shuns evil becomes a prey. The LORD looked and was displeased that there was no justice. 16 He saw that there was no one, he was appalled that there was no one to intervene; so his own arm worked salvation for him, and his own righteousness sustained him. 17 He put on righteousness as his breastplate, and the helmet of salvation on his head; he put on the garments of vengeance and wrapped himself in zeal as in a cloak.