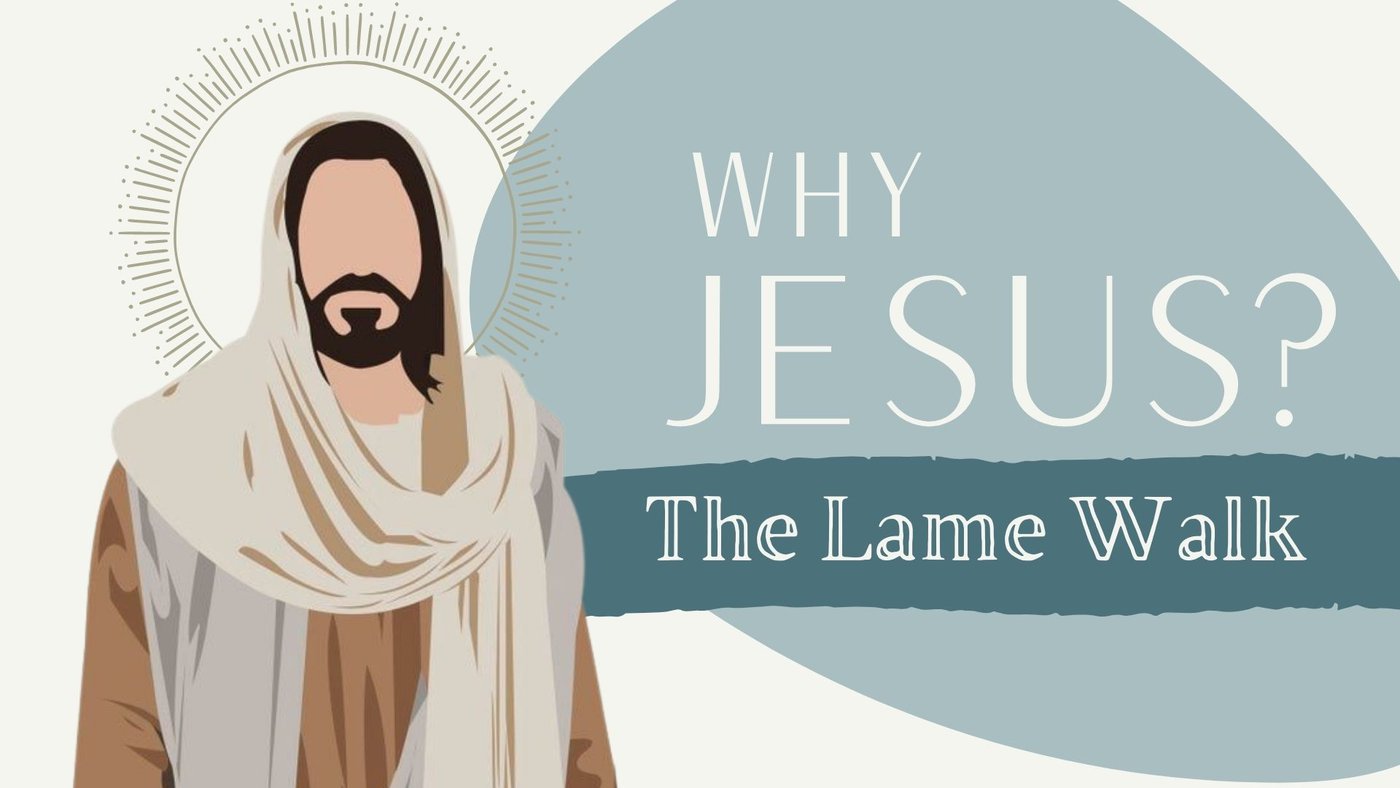 Why Jesus?
The Lame Walk
March 7, 2021
John 6:12-14
12 When they had all had enough to eat, he said to his disciples, "Gather the pieces that are left over. Let nothing be wasted." 13 So they gathered them and filled twelve baskets with the pieces of the five barley loaves left over by those who had eaten. 14 After the people saw the miraculous sign that Jesus did, they began to say, "Surely this is the Prophet who is to come into the world."
1. _______________________________________________________
Matthew 11:1-3, 11
1 After Jesus had finished instructing his twelve disciples, he went on from there to teach and preach in the towns of Galilee. 2 When John heard in prison what Christ was doing, he sent his disciples 3 to ask him, "Are you the one who was to come, or should we expect someone else?" 11 I tell you the truth: Among those born of women there has not risen anyone greater than John the Baptist; yet he who is least in the kingdom of heaven is greater than he.
Psalm 77:1-3
1 For the director of music. For Jeduthun. Of Asaph. A psalm. I cried out to God for help; I cried out to God to hear me. 2 When I was in distress, I sought the Lord; at night I stretched out untiring hands and my soul refused to be comforted. 3 I remembered you, O God, and I groaned; I mused, and my spirit grew faint. Selah
2. _______________________________________________________
Matthew 11:4
4 Jesus replied, "Go back and report to John what you hear and see:
Mark 9:23-25
23 "'If you can'?" said Jesus. "Everything is possible for him who believes." 24 Immediately the boy's father exclaimed, "I do believe; help me overcome my unbelief!" 25 When Jesus saw that a crowd was running to the scene, he rebuked the evil spirit. "You deaf and mute spirit," he said, "I command you, come out of him and never enter him again."
1 John 1:1-4
1 That which was from the beginning, which we have heard, which we have seen with our eyes, which we have looked at and our hands have touched - this we proclaim concerning the Word of life. 2 The life appeared; we have seen it and testify to it, and we proclaim to you the eternal life, which was with the Father and has appeared to us. 3 We proclaim to you what we have seen and heard, so that you also may have fellowship with us. And our fellowship is with the Father and with his Son, Jesus Christ. 4 We write this to make our joy complete.
Psalm 15:3 (ESV)
3 who does not slander with his tongue and does no evil to his neighbor, nor takes up a reproach against his friend;
Hebrews 12:12-15
12 Therefore, strengthen your feeble arms and weak knees. 13 "Make level paths for your feet," so that the lame may not be disabled, but rather healed. 14 Make every effort to live in peace with all men and to be holy; without holiness no one will see the Lord. 15 See to it that no one misses the grace of God and that no bitter root grows up to cause trouble and defile many.
3. The _______________________________________________________
Matthew 11:5-6, 12-14
5 The blind receive sight, the lame walk, those who have leprosy are cured, the deaf hear, the dead are raised, and the good news is preached to the poor. 6 Blessed is the man who does not fall away on account of me." 12 From the days of John the Baptist until now, the kingdom of heaven has been forcefully advancing, and forceful men lay hold of it. 13 For all the Prophets and the Law prophesied until John. 14 And if you are willing to accept it, he is the Elijah who was to come.
2 Corinthians 5:7
7 We live by faith, not by sight.
Luke 7:15-21
15 The dead man sat up and began to talk, and Jesus gave him back to his mother. 16 They were all filled with awe and praised God. "A great prophet has appeared among us," they said. "God has come to help his people." 17 This news about Jesus spread throughout Judea and the surrounding country. 18 John's disciples told him about all these things. Calling two of them, 19 he sent them to the Lord to ask, "Are you the one who was to come, or should we expect someone else?" 20 When the men came to Jesus, they said, "John the Baptist sent us to you to ask, 'Are you the one who was to come, or should we expect someone else?'" 21 At that very time Jesus cured many who had diseases, sicknesses and evil spirits, and gave sight to many who were blind.
John 20:26-28
26 A week later his disciples were in the house again, and Thomas was with them. Though the doors were locked, Jesus came and stood among them and said, "Peace be with you!" 27 Then he said to Thomas, "Put your finger here; see my hands. Reach out your hand and put it into my side. Stop doubting and believe." 28 Thomas said to him, "My Lord and my God!"